Enrollment Opens May 23, 2022
Learn the obstacles to fat loss on keto diets ‒ and how to get past them
If that resonates with you, you're in the right place. 
If you've been doing "all the right things" to lose fat on keto and it's not working, the Stall Slayer Masterclass, with Certified Nutrition Specialist Amy Berger, was created for YOU.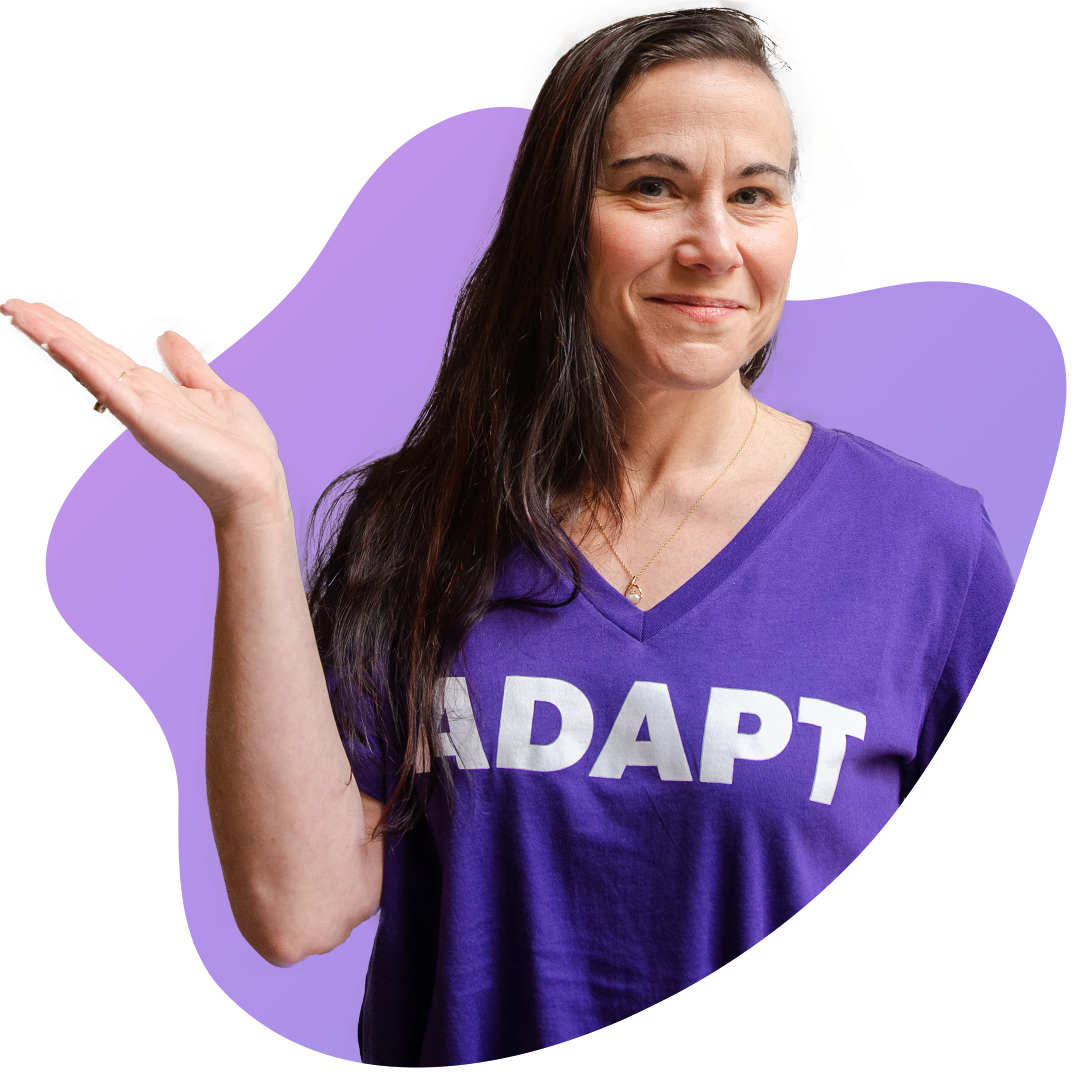 Amy Berger, MS, CNS, is a U.S. Air Force veteran and Certified Nutrition Specialist who helps people do "Keto Without the Crazy." She writes about a wide range of health and nutrition-related topics, such as insulin, weight loss, diabetes, Alzheimer's disease, thyroid function, and more. She has presented internationally on these issues and is the author of The Alzheimer's Antidote, The Stall Slayer, and co-author of End Your Carb Confusion, written with Dr. Eric Westman. She is the lead nutritionist for Adapt Your Life Academy, where she helps create course content and has coached thousands of people through implementing low-carb keto diets safely and effectively.
A video message from Amy Berger:
The Stall Slayer Masterclass will teach you the most common obstacles to losing fat on low-carb and keto diets and how to get past them. This course sets the record straight on myths and misinformation that may be standing in the way of your weight loss and gives you actionable information to adjust your diet to get fat loss moving again. Armed with the evidence-based approach you'll learn from this course, you'll have a better understanding of how keto really works and what to change to make keto more effective for you. You don't need a PhD, a private chef, or a personal trainer to get extra pounds to pack their bags and leave. Often all it takes are some small changes—and The Stall Slayer Masterclass walks you through it all, step by step, teaching you powerful and effective strategies to break a fat loss stall while simplifying your keto diet and drowning out the noise of conflicting information that's been leaving you confused, frustrated, and getting nowhere!
The Stall Slayer is made up of 2 components.
The Stall Slayer Masterclass is a self-paced online course consisting of video lessons, quizzes, and downloadable resources on topics such as cultivating a stall-breaking mindset, getting around the key factors that roadblock fat loss, and creating a healthy psychological relationship with your scale weight. Additionally, the entire book, The Stall Slayer, is provided in electronic format (pdf) – 198 pages packed with everything you need to know to break a fat loss stall, plus much more about keeping keto realistic and doable in the real world. All course material is housed in a password-protected student portal. Students can gain access to their training videos, resources, and other student tools at any time by logging in to their secure portal.
In addition to the course lessons, students will also have 3 weeks of support inside a private, student-only Facebook group. Amy Berger will be active in the group, along with a team of experienced admins who are long-term keto fat loss success stories and who are well-versed in the Adapt Your Life Academy (AYLA) approach to safe, effective, and simple implementation of ketogenic diets. The support component of the class also includes one LIVE interactive Q & A session each week with Amy Berger, during which students can ask questions and get answers in real-time. (If you can't watch live, all sessions are recorded and you will receive a link via email the very next day to watch the replay at any time. (Participation in the Facebook group is optional.)
YOU WILL FINALLY HAVE ANSWERS FOR WHY…
Click the + symbol for more information.
Module 1: Building the Foundation
Module 2: Dietary Factors
Module 4: Lifestyle Factors
HOW DO I KNOW THIS COURSE IS FOR ME?
If you've been working hard on your keto diet—devoting lots of time to tracking your food, weighing & measuring everything, fasting, exercising, measuring ketones and more—and stubborn body fat still isn't moving, The Stall Slayer Masterclass is for you. Keto can work for you, and you may get better results with less complication and less micromanaging of the details. By teaching you the most common roadblocks to fat loss and how to get around them, this course will take you from feeling frustrated and disappointed to empowered and successful.
Still need more? Click the FAQ button below.
"Dr. Tarman, your lectures are enlightening. Thank you for presenting the science around food addiction in a straightforward and understandable way. This information is saving lives."
"Dr Tarman is a superhero full of compassion. She not only promotes, she advocates for all addictions. The education, empathy, medical care, and support she provides is worthy of a Nobel prize. She is an absolute asset to all persons who see her, hear her and read her book."
"Dr. Tarman is very knowledgeable about all aspects of addiction. She is a lovely woman and an incredible doctor. Her talks are extremely helpful in learning about the medical effects of addiction."
"Thank you for all you do, Dr. Tarman! You devote your life to helping others learn and understand food addiction."
"7 years and my world is different as a result and so many lives touched! Thank you so much Dr. Tarman!"
"Dr. Vera Tarman is an extraordinary speaker and a warm and caring professional. She is able to take complicated medical ideas and science to present to varied audiences to convey with such enthusiasm and information that might otherwise be lost to the general population! Her ability to convey her knowledge base and her personal experiences of freedom from Sugar and other substances and behaviors has enriched my life."
"Dr. Tarman has taught me in different settings including the EU certification course for food addiction counselors IN FACT I consider Dr Tarman a model for teaching the subject of addiction and food addiction in particular. She is considered one of the pioneers and is a Leader in the field of food addiction. She is an inspiration to us food addiction professionals who walk in her footsteps. She's the real deal!"
"Vera Tarman´s classes on the addictive brain and body have been instrumental in teaching the Infact School students about addiction as a brain disease. Vera connects the biological effects with the mental, emotional and spiritual, how the brain is hijacked and affects the personality. And best of all how it can be reversed."
"Dr. Vera Tarman is an outstanding food addiction educator whether teaching in a classroom filled with professionals, answering questions during a podcast interview for lay people, or responding to clients' concerns. She is knowledgeable, succinct, and matter of fact with her words, yet displays such care, compassion, and understanding for the population she teaches about and serves. I never miss an opportunity to hear her speak… there are always gems that fall my way!"