Masterchef Scott Parker's
Low-Carb Cooking Made Easy
Award-winning Masterchef Scott Parker teaches his essential techniques for making delicious low-carb cooking simple in his first-ever online course.
You're in the right place!
Take your cooking to the next level with Masterchef Scott Parker in this Low-Carb Cooking Made Easy course.  In 16 lessons, learn to cook healthy, quick, and delicious low-carb meals with seasonal ingredients.  Change your life by changing the food you make at home.
While mastering the culinary arts at the prestigious Westminster Kingsway College in London, Chef Scott Parker gained real-world experience cooking at world-renowned 5-star hotels and restaurants alongside some of the best chefs in the world and eventually became head chef at the two-Michelin starred Midsummer House in Cambridge, England.
Scott has devoted his life to developing foods for some of the world's best retailers and is currently head of the development kitchens for the top South African retailer, Woolworths.   He is also the co-author of the End Your Carb Confusion Cookbook, written with Dr. Eric Westman.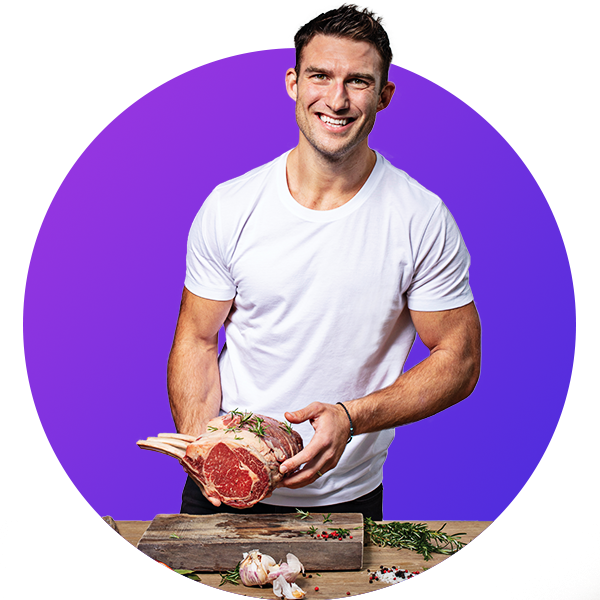 Basic Knife Skills

Essential Ingredients & Kitchen Equipment

Low-Carb Alternatives/Food replacements

Stocks and Broths
Fish: Filleting, Frying & Identifying

Chicken: Butchering & Poaching

Steak: Pan Searing & the Various Cuts of Steak

Eggs: Perfecting All Cooking Methods
Roast Chicken

Roasted Leg of Lamb

Pork Belly Perfect

Reverse-Seared Beef
Still not sure this course is for you?
If you're well-versed in the basics but you're ready to take things to the next level and bring a little more flair to your table—whether cooking for yourself, your family, or entertaining guests—this course will teach you cooking techniques you'll use over and over again. You will learn how to elevate your low-carb cooking from the everyday to the extraordinary and you'll be introduced to a world of new flavors so you can keep your healthy way of eating fun and exciting to stick to.  You don't have to be trained as a chef to cook like one.  Chef Scott passes along his best tips for combining flavors, enhancing foods with savory sauces, and bringing the best out of fresh and healthy whole-food ingredients.  This course (especially when used together with the End Your Carb Confusion Cookbook) will take you far beyond keto replacements and substitutions for certain foods, and introduce you to a world of exotic, flavorful, and impressive dishes that are nonetheless incredibly easy to make.
What People Are Saying About Chef Scott's Cooking
"I have pretty much been using the cookbook exclusively and every meal has been fantastic. Thank you for all you do to help people like me who love to cook and entertain with restaurant-quality recipes, but still maintain health with all your advice and your books."
"Really love this book! The guidelines are easy to follow & a wide variety of dishes means you don't abandon the diet/lifestyle because you get bored of recipes. I highly recommend it to anyone following a low carb or keto diet, or just looking to cut down on carbs."
"Chef Scott is a master at taking ordinary dishes to a whole new level of deliciousness. His cookbook is packed with low-carb, easy-to-prepare dishes that anyone can cook, and that the whole family will love."
"Chef Scott's recipes are simply stellar! His cookbook is easy to use & full of amazing "chef-inspired" recipes that my family loves! The dishes are packed with flavor yet are no fuss, quick to the table, and easy to make with simple and healthy ingredients!"
Endorsed by Dr. Eric Westman
"Sticking to a low-carb or keto diet is a breeze when your food tastes great and is easy to prepare. MasterChef Scott Parker will show you how to level up your cooking so low-carb never gets boring.  This course has done wonders for my own home cooking!"
Frequently Asked Questions