with RD Dikeman | Roxanne Dikeman | Dave Dikeman
Normalize your blood sugar levels. Reduce your risk for complications.
Do your blood sugars fluctuate
wildly throughout the day?
It doesn't have to be this way!
If you've been following the standard advice for type 1 diabetes and your blood sugar is still all over the place then this course, Type 1 Diabetes Management & Diet, with the Dikeman family, is exactly what you've been looking for.
The Dikemans are experienced authorities on using low-carbohydrate nutrition to achieve truly normal blood sugar and hemoglobin A1c, following the pioneering method from renowned researcher Dr. Richard Bernstein, MD. These are the same methods detailed in the landmark paper, "Management of Type 1 Diabetes With a Very Low-Carbohydrate Diet," which showed unprecedented glycemic control for type 1 diabetics who followed a very low-carb diet. (Dr. Dikeman was a co-author along with Dr. Bernstein and Adapt Your Life Academy co-founder, Eric Westman, MD. It was the most popular article of 2018 in the journal Pediatrics.)
Type 1 Diabetes Management & Diet is a self-paced, online, video-based training program designed to help you understand how to implement a low-carbohydrate diet to achieve normal blood sugar levels, so you can have more control over your blood sugar with fewer highs and lows and reduced risk for long-term complications.
The Type 1 Diabetes Management & Diet program is made up of 2 components.
The Type 1 Diabetes program is a self-paced online course consisting of video lessons and pdf resources. All course material is housed in a password-protected student portal. Students can gain access to their training videos, resources, and other student tools at any time by logging in to their secure online portal.
Over and above the video lessons that constitute the course itself, students will also have THREE interactive live sessions with R.D., Roxanne, and Dave Dikeman through Zoom, where you'll be able to ask questions and get answers in real time.
*All Zoom sessions will be recorded and sent to you via email the following day, so you can watch the replay at any time if you're unable to attend the live sessions.
Click the + symbol for more information...
R.D. Dikeman, PhD, is a theoretical physicist and loving husband of Roxanne Dikeman, PhD, a clinical psychologist. Their world was turned upside down when their young son David was diagnosed with type 1 diabetes. After following conventional dietary advice for this condition led to uncontrollable blood sugar, dangerous "hypos," and many sleepless nights, R.D. discovered the work of Dr. Richard Bernstein, MD, a medical doctor who has used a low-carbohydrate diet to control his own type 1 diabetes for more than fifty years and pioneered some of the most groundbreaking research on low-carbohydrate diets for diabetes in the modern era. Through working closely with Dr. Bernstein and as a founder of the Type One Grit online community, R.D. has helped provide thousands of other individuals and families living with type 1 diabetes with information to reduce the threat of complications and attain the truly normal blood sugars that all type 1 diabetics deserve.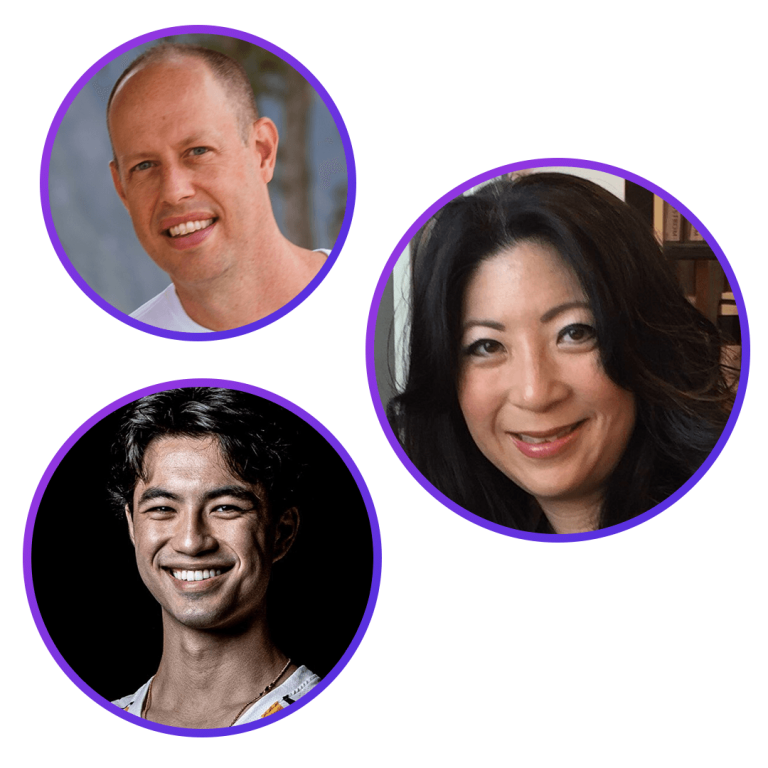 Module 1: Introduction to Type 1 Diabetes
Module 2: Introduction to a Very-Low-Carb Diet to Manage Type 1 Diabetes
Module 3: Insulin and Diabetes Management the Dr. Bernstein Way
Module 4: A Toolbox for Sustaining a Diabetes Management Plan
Still unsure if this course is for you?
Truly normal blood sugars are achievable. Even if you've had type 1 diabetes for decades and have never felt that it was well-controlled. If you've been following conventional advice to eat a high-carbohydrate diet and use insulin to manage your glucose, there is another way – a BETTER way.
This course will teach you a method that allows you to eat delicious, nutritious food while having better glycemic control than you've ever experienced before. Dr. Richard Bernstein's very-low-carbohydrate method, brought to you by his student, R.D. Dikeman, will help you have much tighter control of your blood sugar and reduce the likelihood of severe highs and lows so you can enjoy your life and engage in normal activities without the constant fear of dangerous hypoglycemia.
"Our family has been friends with The Dikeman family for years. Our sons were both diagnosed with T1D at about the same time. RD is an incredible source of information – I wish this course was available to us when type 1 struck our family. Highly recommended."
"RD Dikeman is a legend in the diabetes world. He's more knowledgeable about diabetes than any endocrinologist or CDE that I've ever encountered. You are certain to learn a lot from his course."
"RD Dikeman's expertise in managing type one diabetes is unmatched. He is leading a growing community of parents learning how to support their type one children with smart insulin dosing and low-carb/high-protein nutrition. He has been an invaluable resource to my family and to countless other families achieving non-diabetic blood glucose levels for their type one children."
"RD Dikeman is a T1D father and caregiver, fervent (often daily) advocate for improving outcomes in the T1D community, lead developer at Diabetes University YouTube channel, as well as organizer and co-author on one of the highest profile T1D published research articles since 2018. RD has fought daily to help thousands of T1Ds achieve better blood glucose levels through carbohydrate restriction. Dr. Westman and Dr. Dikeman both come from diverse backgrounds, which will certainly combine for a very useful guide for patients, caregivers, and physicians looking to walk the journey through carbohydrate restriction and T1D."
"RD Dikeman is a tireless advocate for the T1D community. As a parent of a happy, healthy, thriving little girl with T1D, I am endlessly grateful for the generosity he has shown in terms of time and knowledge. The common sense approach of the low carb diet for T1D has been an absolute revelation for us as a family, and with RD's support and tough love approach to T1 nutrition, my daughter is metabolically healthier than the vast majority of her peers."
"RD Dikeman is arguably the smartest person I know. A dedicated family man who set about conquering type 1 diabetes for his son, and then showed me and countless others how to do the same."
"I've been type 1 for 41 years. I started eating low-carb 12 years ago, but still wasn't getting the blood sugar control I was looking for. R.D. Dikeman walked me through Dr. Bernstein's protocols and helped me to get my A1cs to the high 4s and low 5s for 8 years and running."